The case should have a cutout for the plug to go in. On one side of the cutout there should be a smaller tab cutout. The black wire goes furthest from that tab.
wire color order from closest to tab to furthest:
white(signal) red(+) black(-)
or alternatively on some model servos
orange(signal) red(+) brown(-)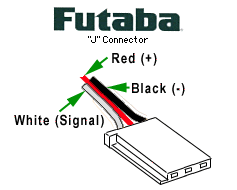 Even if your plugs have no tab, follow this for Futaba servos and receivers. If you are using a non-Futaba servo make sure the wires are in the correct orientation.